We Are Your Airbag Suspension Specialists For All Major Makes And Models.
4WD World is a Major Australian Distributor of Thor Air Bag Suspenion
Onboard Air Control Systems
THOR | On Board Air Kit
This system is designed to enable Air Bellows to be inflated and deflated whilst the vehicle is driving or stationary.
This kit includes:
A reliable 5 CFM 12 volt air compressor (TC50)
Control panel with Dual needle gauge unit and paddle switches
Air lines and fittings
Operation
The kit allows the user to inflate and deflate within the cab of the vehicle.   The required pressure is shown by the two different coloured needles on the dual gauge.
It enables the user to gain:
Optimum pressure under all conditions
Inflation from the driver's seat
Note
This system allows for vehicles that are unevenly laden, i.e. heavy tool box on one side and less weight on other side
The kit is easily fitted at the time of installation of the bellows or at a later time (i.e. to vehicles with the bellows already fitted)
The system is ideal for 4WD, 2WD, Utes & vans and is:
Affordable
Reliable
1st quality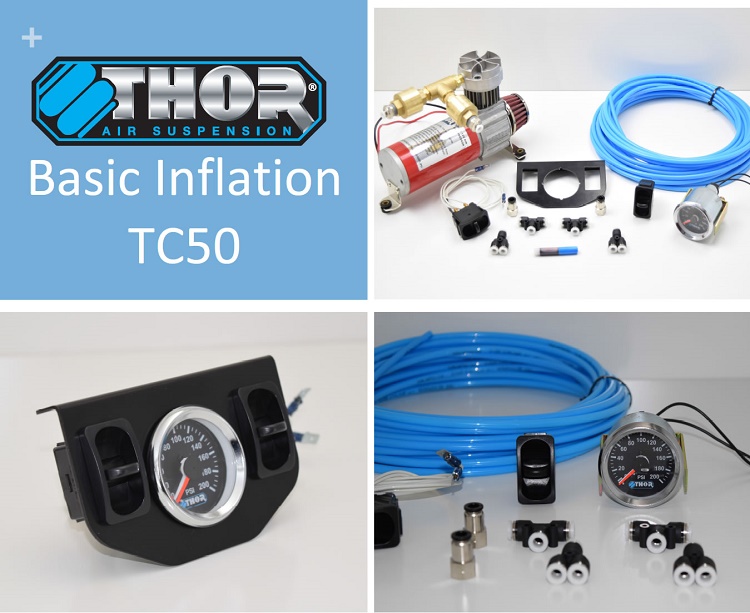 Freecall Airbag World on 1800 807 176 or get your quote below
Your Air Suspension Specialists…