4WD World is a Major Australian Distributor of Thor Air Bag Suspenion
We Are Your Airbag Suspension Specialists For All Major Makes And Models.
Polyair Spring Suspension
Polyair Ultimate Air Bellows
The Polyair Bellows Ultimate load assist kits are specifically designed to suit big American SUV's and 4WD's. With an internal bump stop to help absorb shock, even with zero air pressure, it provides a three-stage ride comfort.
They are ideal for large American 2WD and 4Wd trucks such as Dodge, Ram, Chev 2500HD, GMC 2500HD, Ford 'F' Series and Toyota Tundra.  Also suitable for large caravans, 5th wheelers and heavy horse floats.
The Polyair Ultimate Bellows are rated at 2,800KG and can be used up to 100 P.S.I. They have separate airlines to each bag to stop sway and give better handling and ride control under all types of road and off-road conditions.
On the Ram utes they fit beside the coil springs, and with all other utes they fit between the rear axle and chassis.
They are ideal for use with air inflation kits including the popular Polyair Wireless Remote Compressor Kit.
Features and benefits of Bellows System:
Rugged 2-ply fabric reinforced air springs are built like a tyre.
Fully air adjustable, from 5 to 100psi, to keep your vehicle riding level and comfortable, whether loaded, towing or light, on any road conditions.
Engineered to be easy to install in two hours or less, with full illustrated instructions.
Up to 2,200kg (5,000lbs) of levelling capacity.
Quick connecting easy-to-use engineered polymer air fittings.
Tough, reinforced air bellows for long-lasting strength.
Ultra high strength & corrosion proof Zytel ® Nylon end caps.
Internal Bump Stop ideally suited to USA style pick ups.
Kits designed for standard height and raised applications.
Bespoke design for each vehicle.
2 year, unlimited km warranty.
This kit suits the following vehicles (please call us to discuss your specific model):
Dodge Ram 1500
Dodge Ram 2500
Ford F150 & F150 Raptor
Ford F250
Ford F350
GMC Sierra 1500
GMC Sierra 2500 & 2500HD
GMC Sierra 3500 & 3500HD
Nissan Titan XD
Toyota Tundra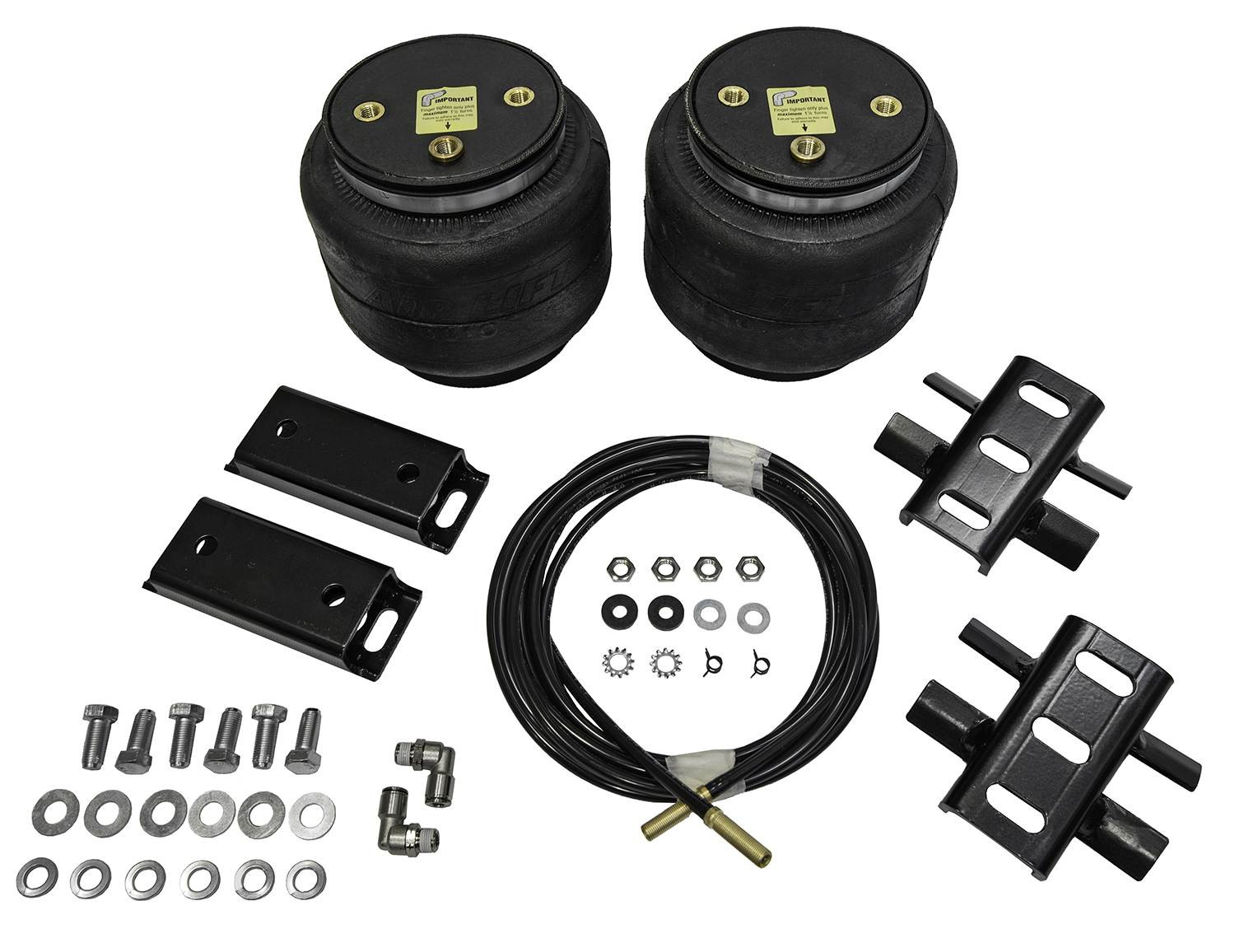 Freecall Airbag World on 1800 807 176 or get your quote below
Your Air Suspension Specialists…